Buy the book
The Fish On My Ear and Other Stories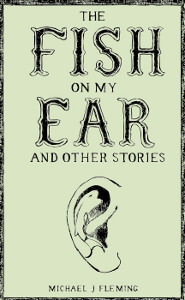 The Fish On My Ear and Other Stories comprises six tales of characters large and small, astute and foolish, pitched into situations few of us would choose. As in "Augustus, Hadrian and Me", where death has just visited and those remaining find, like a defensive wall, they must regroup. As in "A Civil Affair", where a fatal accident from the past haunts the characters, controlling their moods and shaping their lives, long after the event. Or as in "Benchmarks", where death is a frequent visitor but solace can be found in celebration. And of course, as in "The Fish On My Ear", where death arrives when least expected.
Including "Benchmarks" winner of the 2012 Chelmsford Festival Short Story Prize and "Window Gazing" which earned the runners-up prize at the 2012 Charleston Short Story Festival.
Stockists
The Fish On MY Ear is available in electronic form from Amazon Kindle ».
In hard copy form, The Fish On My Ear, is available from mjf@michaeljfleming.co.uk
The Fish On My Ear, is now also available from City Books in Hove (23, Western Road, Hove tel 01273 725306, info@city-books.co.uk).
Given that the title story is set in Singapore, the book is also being stocked by the prominent Singapore bookstore, Book Actually, No. 9 Yong Siak Street, Tiong Bahru, Singapore 168645
( t / +65.6222. 9195 www.booksactually.com).
Watch this space for additional stockists.